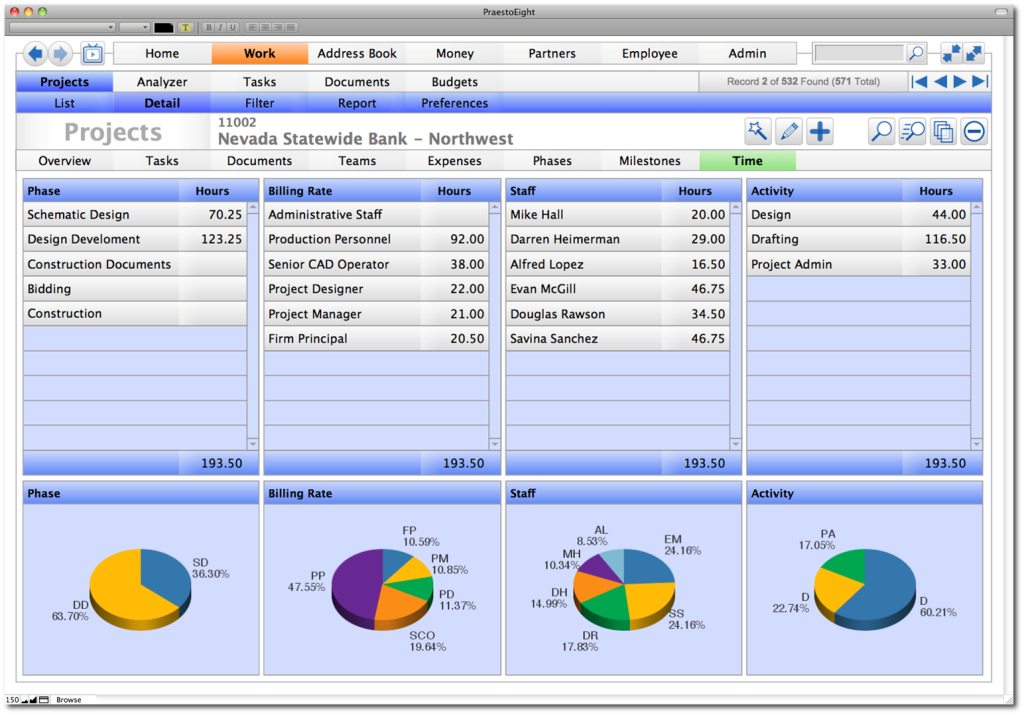 In this Blog Series "Breaking Down Praesto AE: A Business/Project Management Software Solution for the Small AE Firm", I will be dissecting the software by each major area. The articles include information about the system itself but also thoughts on how each component can help your firm improve productivity and increase profitability based on the feedback from our client base and industry tenure.
Project Time: You're selling your time right?
Praesto AE will make your staff more efficient so billable hours are maximized. When you can monitor where time is being spent on your projects you can be sure that you are using the right employees in the right capacity. Our system gives you a snap shot that breaks out your time by Phase, Billing Rate and Employee. You can also run various reports to further analyze where time is being spent.
It is critical that you are gathering time information from your staff in as much of a real-time manner as possible so that you can see if your projects are on budget and schedule before you run into issues. If you give your employees insight into the project management reports that are derived just from simple time entries it will help them to understand just how critical daily time entry is to your firm. Setup simple budgets so that you can easily see your budget vs. actual hours and know exactly where you stand on your projects. One of our clients said it best, "It is great to be able to see the time spent by the entire team as well as individuals. Praesto AE makes it easy to see where money is lost when it is due to time spent."
If you are using QuickBooks for your financial system but have spreadsheets or maybe even handwritten timesheets then you are probably spending a lot of time doing duplicate entries and double checking your work. With our integration we save you time and money! Use your industry specific timesheets to generate your invoices right out of Praesto as well (and then just push the invoice to QuickBooks for your accounts receivable and financial data)…but more on that next week!